My Little Pony X Vinca Collection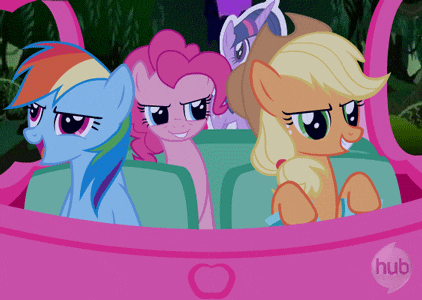 Let's take a trot down memory lane. The year was 2015 and we partnered with Hasbro© to bring the officially licensed My Little Pony™ X Vinca Collection to life. The twelve piece jewelry collection takes inspiration from the fourth incarnation of the TV show My Little Pony: Friendship is Magic. The '80s childhood favorite is revamped for a new generation! For this collection we worked our magic by mixing glitter, bright neons and shimmery iridescents to offer a lineup of limited edition necklaces and chunky earrings to fans of all ages. 

My Little Assembly Line
The gang's all here! All your favorites from My Little Pony: Friendship is Magic are available as a necklace and a pair of cutie mark statement earrings. Pick your pony: Apple Jack, Fluttershy, Twilight Sparkle, Pinkie Pie, Rainbow Dash and Rarity. Each pony's silhouette is available as a "floating charm." Each charm is cut from gorgeously glitzy transparent iridescent acrylic and attached to a silver plated chain with a custom hang tag on the back clasp.

Apple Jack

Fluttershy
Pinkie Pie
Rainbow Dash
Rarity
Twilight Sparkle
Our officially licensed My Little Pony™ collection also included cutie marks or unique characteristic symbols located on each pony's flank. We designed a limited edition cutie mark for all six My Little Pony™ main characters listed above. The custom cutie mark earrings were a labor of love, literally. I like to think of these as intricate little puzzles you can wear on your ears. The Rarity cutie mark pair of earrings has at least 20 pieces alone. I'm trembling just thinking about cutting parts and gluing those together. It was a lot of work, but a lot of fun too!

Pony Palettes
Each pony has a specific color palette that we adhered to. We keep all of our color and texture samples on a ring for pick and pull ease. Color selection and texture is sorta my jam. This section I will breakdown each pony and the materials we selected for them.


 Apple Jack

Apple Jack has her cluster of glitter red apples with mirror green stems.

Fluttershy

Fluttershy has her gaggle of purple and yellow butterflies.

Twilight Sparkle

Twilight Sparkle and her sleek pink mirror and solid white sparkles.

Pinkie Pie


Pinkie Pie, of course, has her trio of neon yellow and teal acrylic balloons.

Rainbow Dash 

Rainbow Dash has her tri-colored rainbow lighting bolt and cloud motif cut from orange, teal, yellow and solid white acrylics.

Rarity 


Last, but certainly not least, Rarity. Not one, but TWO types of blues were used for this gal! Glitter blue and mirror royal blue were cut to form Rarity's diamond-shaped cutie mark.

Our 2015 officially licensed My Little Pony™ collaboration with Hasbro© was a limited edition set made with great attention to detail. The Vinca gang designed, cut, assembled and packaged all items you see here in our studio space in Austin, TX. Thanks for reading/scrolling if you made it this far AND keep your eyes open for new officially licensed partnerships!
---